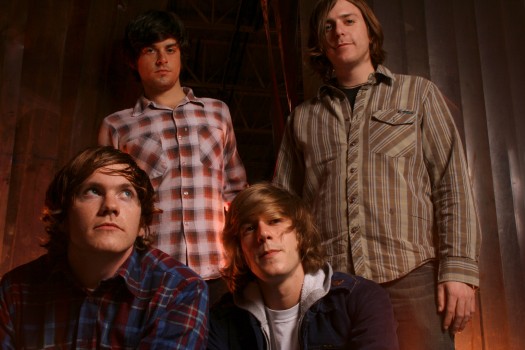 Cities
.........................................................

Frigid and icy, the winter of 2004 gave birth to a band by the name of Cities. Conceived in a marvelously heated practice room in Chapel Hill, NC's GO! Studios – brought up in grimy NC rock clubs like the Cat's Cradle, Local 506 and Kings Barcade – the group formed after UNC student, and classically trained musician, Josh Nowlan met a few like-minded music fans named Robbie Mackey and Jeremy Pashcall.
After arguing over their favorite bands and discussing their appreciation for musical-restraint and macabre indie rock, a just-for-fun project had begun. Drummer Joey Ingram, whom Josh had known since high school, was stationed in nearby Greensboro, NC, and after his percussion services were enlisted a mere month later, the band's official lineup was set.
As they began writing, the confluence of Nowlan's classical training, Mackey's originality, and Paschall and Ingram's punk and hardcore pedigree produced a crisp, bombastic form of indie rock. A steadfast appreciation for the music of their youth found itself coupled with a conscious decision to turn their sound away from the feverish and aggressive aesthetic they'd grown up on. Deeply impassioned, without coming off as ham fisted and oafish, the music was epic, yet controlled, insistent, yet decidedly serene.
Sharing the stage with such acts as Engine Down, Clap Your Hands Say Yeah, I Love You But I've Chosen Darkness, Thunderbirds are Now!, We are Scientists and Unwed Sailor, Cities quickly fine-tuned their brilliant live show and – on the strength of a meager demo, recorded in two days with the consummate Nick Petersen (Dillinger Escape Plan, Bellafea) – garnered the attention of powerhouse indie label, Yep Roc Records. After debuting their somber rock to wider audiences at the CMJ music festival in NYC, Cities entered the swank home-studio of Brian Paulson (Beck, Slint, Superchunk) to record their self-titled debut Yep Roc full-length in the fall 2005.
The self-titled debut is completed, and will street this April 18th, 2006. The release will come on the heels of the band's '06 SXSW appearances (Yep Roc showcase, Fader Magazine party, and the Yep Roc/HARP Magazine/KEXP day party), so be sure to catch them in Austin if you're in town.
Look for Cities in 2006, on the road in support of their debut release.
On Tour: