Chuck Prophet will release his new album, The Land That Time Forgot, on May 15th! Pre-order on CD or First Edition LP (arrives on RED vinyl!)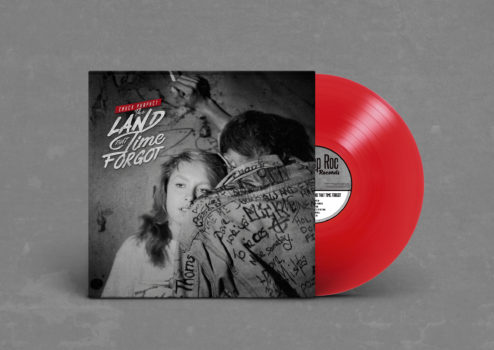 Most of the record's dozen songs were co-written by Prophet and klipschutz, his longtime collaborator. Together, they recall the melancholy wonder of their native Bay Area, a land that, to the acclaimed songwriters, represents the hope and despair that makes rock 'n' roll so timeless, even if it's now full of "robots with ironic haircuts." It's a darker, more present take on Americana and all its beautiful losers.
With this announce comes a new single, "Marathon," which is mutant rock n' roll at its finest … full of driving motorik bass, Everly Brothers-in-space guitars and vocal harmonies courtesy of Stephanie Finch. As the album reexamines the West Coast, the music video for "Marathon" channels the dance-a-thons of the Great Depression. To Prophet, these were the first reality TV shows, and they're not too out of place in today's gig economy.
"There's twisted psychology to the Depression-era dance marathons," says Prophet. "And like Wrestling or the Kardashians, it's all rigged. But we don't want to believe it. The Marathons blurred the line between theatre and reality."
Watch the official video below:
Prophet has already released the album's call-to-arms closer, "Get Off the Stage," a political takedown akin to the classic protest songs of the '60s via The Great Dictator:
This spring, Prophet will tour around the world, playing both solo gigs and with his longtime band The Mission Express. He'll also play various showcases at this year's SXSW, including Willie Nelson's Luck Reunion. Tour dates below!
Feb 28 – Swallow Hill/Daniels Hall – Denver, CO*
Feb 29 – Magic Rat – Fort Collins, CO*
March 11 – Club Congress – Tucson, AZ*
March 13-14 – Continental Club – Austin, TX
March 15 – Devils Backbone Tavern – Fischer, TX
March 19 – Luck Reunion – Luck, TX
March 20 – Lucy's South By South Austin Fried Chicken Revival – Austin, TX
March 21 – Burgermania IX at Hotel Vegas – Austin, TX
May 2 – Pappy & Harriet's – Pioneertown, CA
May 3 – Beachlife Festival – Redondo Beach, CA
May 8 – Hopmonk Tavern – Sebastopol, CA
May 9 – Harlow's – Sacramento, CA
May 16 – Hipnic – Big Sur, CA
May 25 – Hare & Hounds – Birmingham, UK
May 26 – The Fleece – Bristol, UK
May 27 – Brudenell Social Club – Leeds, UK
May 28 – Saint Luke's – Glasgow, UK
May 29 – The Met – Bury, UK
May 30 – Red Rooster Festival – Suffolk, UK
Jun 1 – Blues & Ribs Festival – Raalte, Netherlands
Jun 2 – De Zwerver – Leffinge, Belgium
Jun 3 – Ekko – Utrecht, Netherlands
Jun 4 – Loaded Festival – Oslo, Norway
Jun 6 – Oasis Club – Zaragoza, Spain
Jun 8 – Sala Apolo – Barcelona, Spain
Jun 12 – Metronome – Nottingham, UK
Jun 13 – Lafayette – London, UK
Tags:
Chuck Prophet
,
music video
,
New Album
,
New Video
,
The Land That Time Forgot